Mold Removal in Construction Projects
Mold removal is still a necessity for new construction projects. From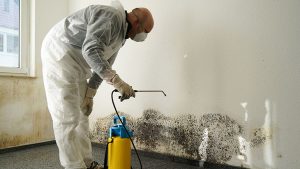 residential builds to commercial development, mold spores can hatch and spread in the blink of an eye. As you know, the mold is a fungus that grows on rotting substances. It is usually detectable by its greenish-yellowish color — but can form in other colors as well. Mold can be found in literally every environment — especially indoors and outdoors.
Spores grow due to warm, arid and humid conditions. Similarly, they can grow in areas that are damp, such as basements, crawlspaces, and attics. With this in mind, even the newest reconstruction or remodeling can result in mold being present — and professional mold removal specialists should be contacted to deal with them.
Mold Health Dangers
Mold can emit a foul odor at times –but for the most part –is odorless. This is what makes these spores so dangerous, as well as causing nasal stuffiness and throat irritation. Mold is also known to cause respiratory illnesses and breathing problems in both humans and pets. Similarly, it can result in skin irritation and several allergic reactions in some individuals.
If you are working on a new construction project (residential or commercial), it is vital to wear goggles, nose masks, mouth masks and protective gloves. This will help prevent any direct contact with the mold while avoiding health problems and issues. However, mold can still be present in all types of properties year round. This is why a mold removal and remediation expert is highly recommended to handle these issues.
Removing Mold in Construction Projects
For some projects, time is pure of the essence. While a professional mold inspector will be brought in to check for spores across the board — there are DIY ways to get of mold. Here are some of the more common methods used in tackling new or existing mold spores:
• If the mold is less than 3×3 patch size, you can use strong bleach and water. Use protective gloves and apply the bleach and water to the mold. You can scrub the area in question if desired –but let it dry completely in order to secure timely results.
• Mold spores can also be handled with ammonia and water. Ammonia may be tough to smell but it does have essential ingredients that loosen mold spores. Similarly, there are commercial disinfectants you can use on the mold as well.
• One of the best ways is to use bleach and water on a mop. Simply mix the two elements and dip your mop in the bucket. Apply as evenly as possible so you can tackle surface — and below the surface — mold spores and growths.
• If you spot mold on walls, Sheetrock, or insides closets and bathrooms — vinegar is also a great solution for mold removal. In fact, distilled vinegar is cost- effective and can easily be poured into spray bottles. You can then spray the vinegar onto the areas with mold –and let them sit for an hour or so. After an hour, wipe the area clean with water and allow the surface to dry.
Mold Remediation Experts
Mold removal professionals are always available for all types of construction. In fact, they offer pre-mold inspections for commercial and residential establishments. Similarly, the offer complete mold detection and removal services — for all properties –across the board. This includes mold removal from closets, walls, Sheetrock, basements, attics, and crawlspaces.
They also remove mold from glass, metal, tiles, tubs, and sinks. Most mold removal experts work on projects where mold is rapidly growing and hitting several spots. They also formulate strategic plans to eliminate and eradicate mold altogether. This includes but is not limited to:
• Identify the source of the mold on your property. This includes high-end detection equipment, along with visual sources. Professionals also analyze and assess the mold to see if it's due to excessive moisture in the home or business. With the latter, they can recommend the best steps to controlling moisture levels in the property.
• Mold remediation plans may include cleaning and disinfecting the affected areas, along with the removal of certain Sheetrock and contaminated areas. Experts will connect you with the best local contractors for these jobs.
• Mold cleanup services also include cleaning the areas with industry solutions, as well as industrial-strength vacuums. As always, all contaminated areas will be isolated and all removed items will be placed in bags for safe and environmentally-friendly disposal.
These are but some of the services that mold removal technicians offer. For a more detailed breakdown of services, simply check the Web or contact your local mold remediation company or contractor today.